in News —
Changing business landscape with supercomputers
SUPERCOMPUTERS are nothing like your PC. For the most parts, supercomputers are built with Central Processing Unit (CPU)s from AMD or Intel, or Graphic Processing Unit (GPU)s from Nvidia or AMD, but that's where the similarity ends.
A supercomputer is a type of computer that has the architecture, resources and components to perform massive computing power. Today's supercomputers consist of tens of thousands of processors that are able to perform billions and trillions of computations per second.
So what can you do with a supercomputer?
According to Nurazam Malim bin Sidik Malim, founder and the Chief Executive Officer of Twistcode Technologies Sdn Bhd (Twistcode®), supercomputers can do pretty much everything.
"At Twistcode®, we build and assemble our own GPU-based supercomputer to accelerate genomic data processing, rendering, deep learning and artificial intelligence, finance, scientific and engineering simulations."
"The power of supercomputers is that they can keep track an enormous amount of data at once," says Nurazam.
Founded in 2006, Twistcode® is the first and the only company in Malaysia validated and certified as a high-performance computing company by SIRIM Berhad.
"The entire economy is moving in the direction of machine learning, artificial intelligence, modeling simulation, and data analytics. These require access to sophisticated computing," he says.
"In genomics sequencing for example, we can shorten data processing to 3 days from the previous 160 days required."
In June 2016, Twistcode® signed an MoU with Malaysia Genome Institute to accelerate genomic computational analysis algorithms and its processes.
Nurazam has also done his bit to set up a platform for biology data resources for researchers in Malaysia to access the data.
Emulating the European Bioinformatics Institute (EBI) open data, Nurazam said the previous setup was slow because the bandwidth capacity allowed for Malaysians to access the data on EBI is too little.
So, he took the initiative to host the data for local access for free.
"The access to data is vital nowadays for scientists to do research. This is part of our company's social responsibility, to provide free and faster access to the data.".
This cutting-edge company also aims to improve investor performance in complex financial markets using predictive financial data analytics platform.
"We help everyone from very small start-ups to large companies that want to leverage advanced computing and data analytics to help grow their company," says Nurazam.
Artificial Intelligence
Another area that Nurazam has passion for is artificial intelligence.
Nurazam said Twistcode® uses artificial intelligence in healthcare to improve patients' lives and create faster, more efficient, sustainable, and accessible healthcare systems.
"Many feared that AI will replace humans. AI is not supposed to replace humans, but assist humans in many areas, for example in healthcare, AI will deliver assistive technologies that will empower doctors to better serve their patients, data analysis, data storage and integration, data mining and analysis," says Nurazam.
Recently, in collaboration with Malaysian Technology Development Corporation (MTDC), Malaysian Digital Economy Corporation (MDEC) and HLX, Twistcode® organised Human vs AI in detecting breast cancer.
The event saw multiple AI teams vs human (doctor) teams – the first of its kind in the world.
The teams were given 200 histopathology images of breasts, then they were required to detect breast cancer. One of the AI teams managed to detect breast cancer with 100 per cent accuracy within four minutes.
"We are also currently developing an algorithm that analyses social media posts, and filtering out fake news. To filter out fake news, we employ machine learning techniques that automatically search for specific markers in texts and metadata and drawing on user interaction to optimise the results as it goes.
"With fake news travels faster and further on social media, it becomes more important than ever to distinguish between content that is authentic or fake," adds Nurazam.
Twistcode®  also uses AI to help geoscientists identify and evaluate oil and gas exploration prospects as well as risk assessments and the interpretation of 3-D seismic images.
Early Days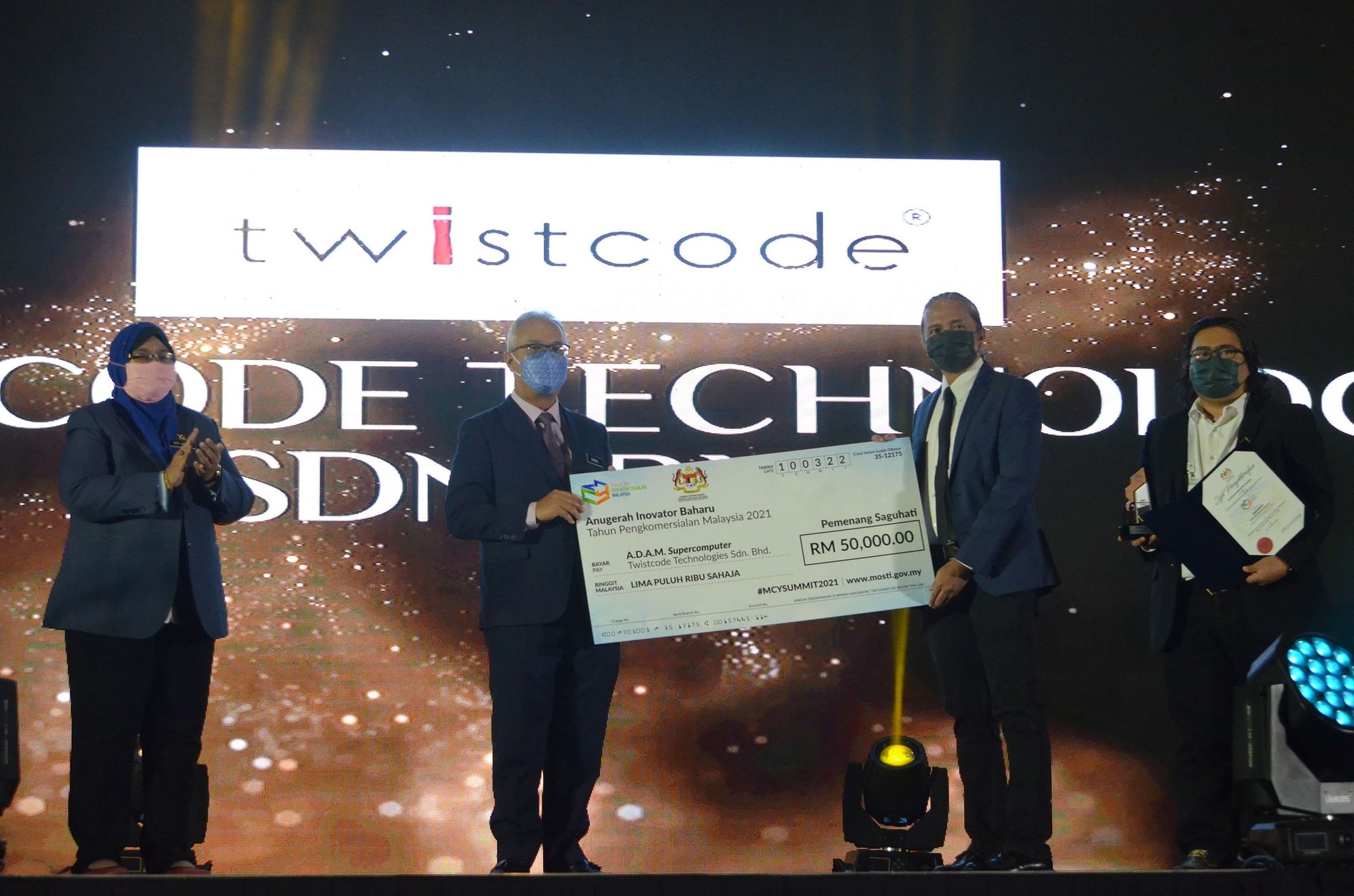 Nurazam who has a degree in electronics and electrical engineering from Chiba University, Japan said starting the business was not easy.
"During the early days, I faced countless rejections. It wasn't easy to explain to people what we were doing. It took me ten years of struggle to be where I am today. At one point, I had to sleep in the carpark basement because I did not have money to pay rentals."
"I realised I may be good at supercomputing, but I lack other skills. So, I learned from rejections and improved my marketing strategies. In business, whatever the circumstances may be, you must believe in yourself and never give up!" said Nurazam.
Now Twistcode® is a team of 19 engineers, bioinformaticians and IT experts.