in Events —
Human VS Artificial Intelligence 2019
Breast Cancer Detection using Histopathology Images
The inaugural Human vs AI 2019 (for Breast Cancer Detection) organized by Twistcode took place on 25th of April 2019 at Menara HLA, KL and to our knowledge, it was certainly the first event of its kind being organized in Malaysia- Men and Machines on a duel to work on a chosen problem. A friendly match with a competitive edge. Many thanks to our co-organizers MTDC, MDEC and HLX for their generous support!
This first edition Human vs AI brought together over 5 teams of AI developers and ML advocates that represent the AI front, alongside 2 teams of Pathologist that takes on the Human badge. The participating teams came from a diverse background of university students, programmers, techies, AI & ML hobbyist, teams from start-ups, and medical doctors. Six of the teams partake in the event on premise while one team live stream their work remotely from HUSM Kubang Kerian, Kelantan. Over that historic morning in Menara HLA, they tackle a significant task in healthcare services: "Is this medical image contains cancer cells or not?
Cancer Detection?
Detection of cancer from medical histopathology images comes after biopsy, it is at the later stage of cancer screening process and one of the most important steps where the output help doctors to devise the treatment strategy for the patient. The ordeals possess its own challenges such as the strain it puts on pathologist when sieving through large number of images over long duration of time.
In this event, participants logged on to competition platform at competition.genome.my and were given access to a dataset of 200 breast histopathology images in randomized sequence. They were required to label the images using machine learning models or their image reading expertise over the course of one hour and submit their team consensus to the system which will compare their final answers against the ground truths of the images. The team which registered the highest number of correctly labelled images (a.k.a score) in the shortest time is the winner.
After one-hour competition period ended and all teams have submitted their answer, Team betterthandoctors.ai emerged as as the winner, followed by Team Tak_Tau as runner up and Team DeeperMind as 1st runner up. The top team won RM3000 prize money + HLX co-working space vouchers, whereas runner ups brought home HLX co-working vouchers and complementary gifts from our sponsors.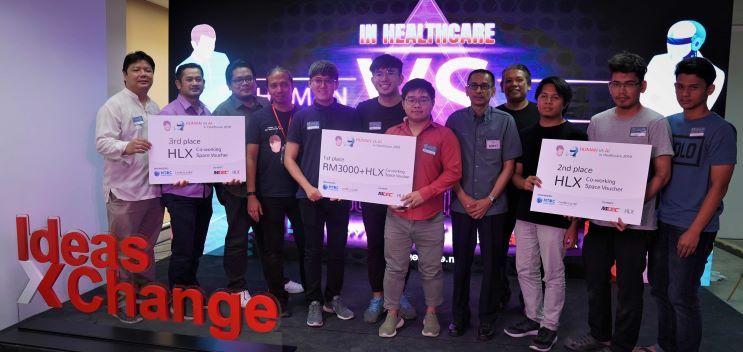 Prizes were awarded to winning teams by Malaysian Tech Development Corp (MTDC) Director of Tech Ventures Tuan Hj Mohammad Hazani Hj Hassan. Mr Hazani who is also a cancer survivor, delivered an insightful account from his experience fighting cancer that the journey towards curing cancer needs all the help it can get- and technology such as AI is a powerful tool that must be capitalized in intelligent ways. Mr Rafe Asznal, the Head of Digital Ecosystem at Malaysia Digital Economy Corporation (MDEC) added that AI and ML were not Doctors substitutes but partners, and the misconception that these techs will replace doctors is incorrect and needs to be ironed out to move forward. These comments are in line with the core principals of this event, to raise more awareness about the promise of AI & ML in healthcare and forge greater synergy between healthcare and tech industry.
Overall, Human vs AI 2019 was an outstanding success and all participating teams collectively contributed to setting up the benchmark and precedence for more of similar initiatives to come. The turnout for the events was positive and reflects the interest general mass have towards AI & ML in healthcare. The event wrapped up with a photo op and networking session over food among guests. Don't worry if you missed our first Human vs AI in April. We will be hosting as well as participating in more events in the upcoming months- stay tuned!
About HLX
The event Human vs AI was held at Menara HLA in Level 30, in one of the space that forms The HLX Complex. The HLX will be a one-stop facility which converges the corporate and start-up communities under one roof to accelerate innovation and boost the Malaysian start-up ecosystem. This 250,000sq ft exchange located in the heart of Kuala Lumpur will feature a start-up zone with co-working spaces, various event facilities including an auditorium, onsite Makers Lab, restaurants, and a gym. This innovation incubator will be the focal point for collaborators vital to the growth of the ecosystem such as Venture Capitalists (VCs), mentoring and technology partners, tech start-ups/scaleups, and corporations. HLX is positioned to focus on the innovation of high technology with an initial focus on Artificial Intelligence (AI)/High Performance Computing (HPC), fintech, and manufacturing tech.
Participants
| | | |
| --- | --- | --- |
| Name | Team | Group Name |
| Kee Chee Yau | AI Team | betterthandoctors.ai |
| Poo Kuan Hoong | AI Team | betterthandoctors.ai |
| Ching June Hao | AI Team | betterthandoctors.ai |
| Mohammad Khursani Mohd Shaib | AI Team | tak_tau |
| Muhammad Nazmi Mat Asri | AI Team | tak_tau |
| Muhammad Fadzil Mohd Jusri | AI Team | tak_tau |
| Adrian Wong | AI Team | Deeper Mind |
| Mohd Hafizuddin Mohd Yusof | AI Team | Deeper Mind |
| Mohammad Faizal Ahmad Fauzi | AI Team | Deeper Mind |
| Dr. Wan Faiziah Wan Abdul Rahman | Human Team | USM AVENGERS |
| Dr. Nur Asyilla Che Jalil | Human Team | USM AVENGERS |
| Dr. Seoparjoo Azmel Mohd Isa | Human Team | USM AVENGERS |
| Lee Jie Min | Human Team | Medex |